"OPEN UP 2023" for teenagers, aged 10-13 years. (26.06.-30.06.)
From 26. june 30. June in the recreation center "Jumurdas muiža" (eng. Jumurda's manor), a
5-day dance camp "Open Up 2023" will take place. This camp gives people a chance to discover and acknowledge their potential. Rate their abilities and find a new inspiration.
The goal is to train the dancer physically, teach different dance techniques, and a new experience in different dance styles (Hip Hop, House, Popping, Locking, Afro dance, Contemporary, Jazz dance, Freestyle, Choreography, etc.).
There will be 12 different teachers and pedagogues from various countries (Latvia, Norway, Lithuania, and Belgium) in the camp. There will be a possibility to achieve a greater experience in dancing skills, resistance, physical development, and teamwork. Besides intense training 3 times a day, multiple activities, water fights, free choice sports, dance battles, team works, movie nights, fire camp nights, etc. will be planned.
Price : 275Eur + PVN + 20Eur (transportation)
The registration is approved and the place in the camp is reserved after receiving at least 20% of the total price. The final settlement must be covered by 15.06.
Upon receipt of your registration, it will be processed and an invoice will be sent to your e-mail, if you have provided the invoice details for the camp in the application form. Money cannot be credited to the account without an invoice number. (However, if the camp cannot take place due to a state of emergency, the money is returned to the payer).
After receiving the application on the website, the camp organizers will contact you.
Contacts:
Tel. +371 29354331
E-mail : info@dancebeat.lv
Necessary items to bring to camp:
a towel
headcover – hat/scarf
sunscreen
water bottle (water refills possible at camp, recommended to take a bottle that is named, so it's possible to know to whom it belongs)
your own mug
extra shoes – comfortable sports shoes
couple sets of sports attire
sports jacket, for cooler weather in the evenings
a bag for dirty clothes, so that dirty clothes stay separated from the clean ones.
Things that you shouldn't bring to camp:
Money ( during camp there won't be a possible place to spend it)
Valuable items (if they are brought, the participant is responsible for it)
Sweets (if brought, the participant must share with other camp participants)
Ipads, other electronic devices (games, etc.)
Approximate day plan :
08:30 – 09:00 Good morning
09:00 – 09:30 Morning warm up
09:30 – 10:30 Breakfast
10:30 – 11:30. Morning meeting
11:30 – 13:00. Training / Hip Hop
13:00 – 14:00 Lunch
14:00 – 16:00 Training / Contemporary
16:00 – 18:00 Leisure / Board games / Sports games
18:00 – 19:00 Dinner
19:00 – 20:30 House dance
20:30 – 22:00 Campfire evening / games – Nights
22:30 – 23:00 Go to sleep
23:00 Silence
* The daily plan differs with additional classes, activities, and evening events.
TRANSPORT We go to the camp by a common bus. (Additional fee 20Eur)
Doctor's note
To take part in the camp, a doctor's certificate on the child's state of health is required. The doctor's certificate is valid if it is issued no earlier than 2 weeks before the start date of the camp.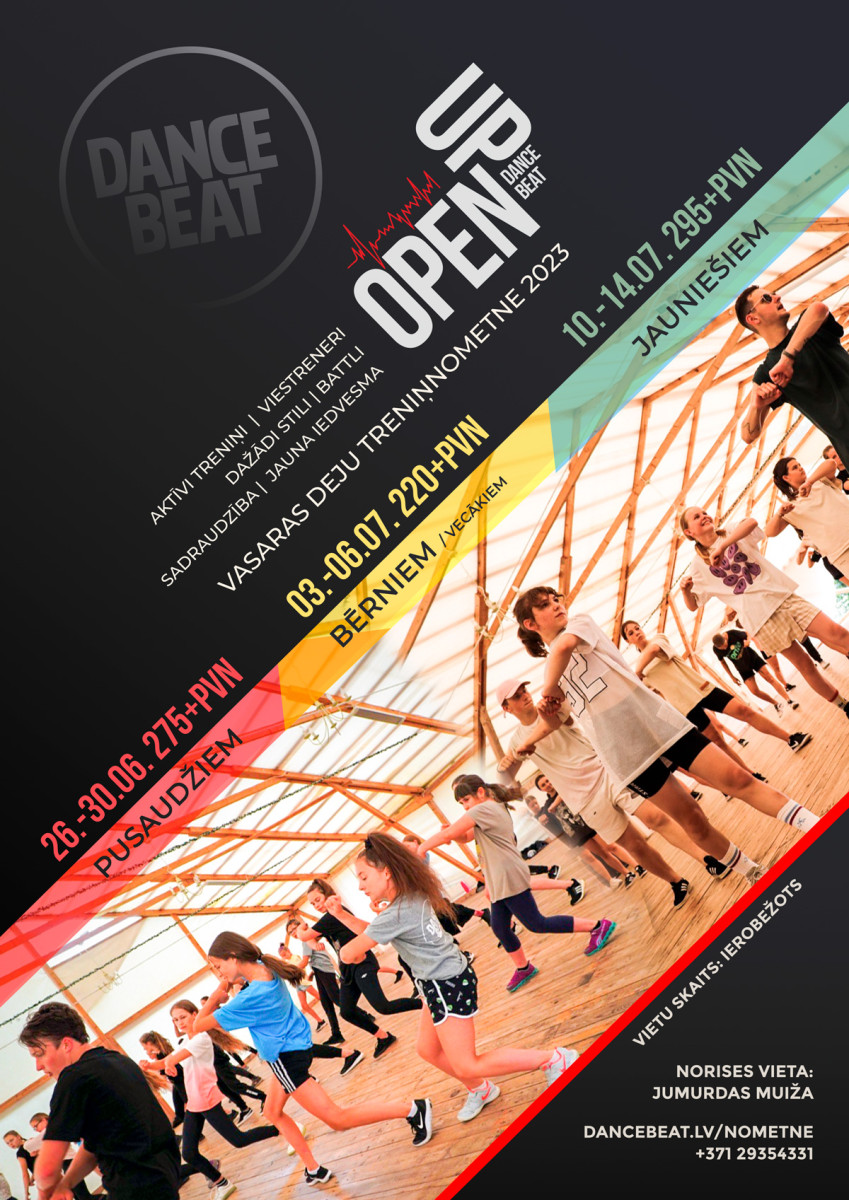 Previous camps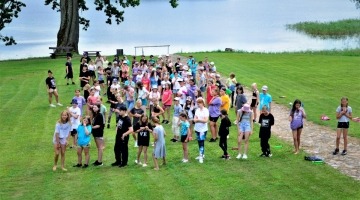 "OPEN UP 2021" pusaudži, vecums 10-13 gadi, 28.06.-02.07.2021
Supporters